Digital Marketing for Law Firms and Attorneys
Results-driven marketing strategies that increase your visibility and build your reputation.
Law Firm Digital Marketing Solutions
You've seen how marketing for law firms has shifted over the years from full-size ads in the phone book and flashy television commercials into the digital space. Successful digital marketing for law firms isn't about bigger and flashier advertising. In order to elevate your law firm to the next level, your strategy needs to be about increasing visibility, leveraging search engines to drive traffic to your website, and building an online presence that cultivates trust among the clients seeking your services and expertise.
That's where TheeDigital comes in. We provide comprehensive internet marketing services for law firms using industry best practices that are tailored to your goals. When you want to serve more clients, expand your practice, and stand out from your competition, we make it possible through proven strategies that are both ethical and effective.
Award-Winning Marketing Services for Law Firms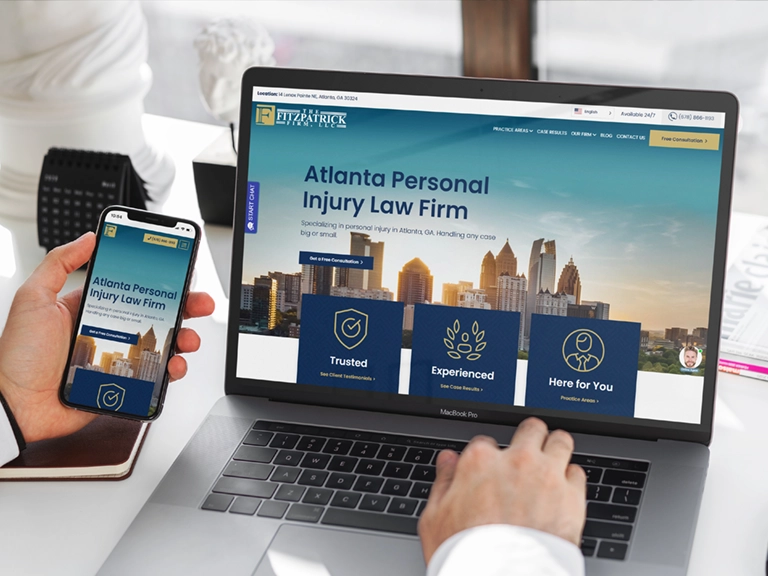 The Fitzpatrick Firm, LLC
WordPress Development and SEO Marketing for Atlanta Personal Injury Law Firm
The Fitzpatrick Firm, LLC new responsive legal website is not only mobile-friendly, but consumer focused. With internet marketing and SEO services, they've also seen an boost in web traffic, conversions, and time on site.
80%
Increase in Total Leads
The Law Office of J.M. Kotzker
Search Engine Optimization for a Raleigh Criminal Defense Attorney
The lack of strategic keyword optimization and compelling content meant that J.M. Kotzker's services were not reaching the right audience. Recognizing these obstacles, TheeDigital swiftly stepped in to address these marketing issues head-on and transform J.M. Kotzker's online presence into a powerhouse in the legal industry.
1,021%
Organic YoY Growth
Irons & Irons Law Firm
WordPress Website for a Fast Growing, Multi-Location Law Firm
TheeDigital built this new website on WordPress with a highly customized design that made it easy for visitors to find the information they needed.
122%
Increase Mobile Traffic
Capital Criminal Defense
Custom Web Design and SEO for Criminal Defense Attorneys
Discover how a custom law firm website design and SEO services helped these criminal defense attorneys attract more clients.
175%
Increase in Organic Traffic
Alexander and Doyle Law Firm
Web Development and SEO for a Family Law Firm
Custom web development and SEO services placed this law firm at the top of desired SERPs – and boosted their conversion rate.
103%
Increase in Organic Search Traffic
Schweizer & Associates
Custom Web Design and SEO for a Legal Firm in Garner
Learn how TheeDigital helped Schweizer & Associates's create a new website and content strategy to generate awareness and clients for their law firm.
11.87%
Increase in Traffic on Mobile Devices
Your website is your most important marketing tool. For most site visitors, it's the first impression of your law firm, and approximately three-quarters of users base a law firm's credibility on their website alone. If your website is outdated, difficult to navigate, or doesn't accurately represent your firm, you're losing potential clients.
Our web design team will overcome those challenges with a custom website that reflects your law firm, going beyond your practice area to share your values, mission, and expertise. Just as importantly, we ensure it's optimized for search engine rankings, easy to navigate, and has high-quality, informative content so prospective clients can find your law firm and get the information they need at every level. 
Custom WordPress Web Design

Optimized for Search Engines

User-Friendly Navigation

Responsive Web Design for All Devices

ADA-Compliance for to Improve Accessibility
Benefits of Our Web Design Services for Law Firms
Increase Website Traffic
Awareness and visibility drive prospective clients to your website where they learn more about your firm and your services.
Increase Credibility
First page search engine rankings, a professional website and quality content build trust with prospective clients.
Increase Efficiency
We integrate tools into your website that improve efficiency and streamline your operations
Increase Leads
Our digital marketing strategies build a pipeline to increase qualified leads from the clients seeking your representation.
Increase Brand Awareness
An expanded digital presence and higher search engine ranking places your law firm in front of your ideal clients.
Increase Accessibility
Our websites are ADA-compliant and accessible across all types of devices so you can connect with more clients.
Your prospective clients are using search engines to find an attorney, but if your website isn't a high-ranking result, those clients are going to your competitors' websites for information. Successful digital marketing for law firms requires search engine optimization (SEO) that puts your website front and center with prospective clients.
SEO is more than keywords. Our marketing team builds up your site with high-quality, relevant content and technical improvements as well as increases visibility off-site across social media, business directories, and industry-related sites to maximize your rankings and boost your reputation.
Achieve front page visibility

Attract quality leads 

Grow your digital presence

Build your reputation
Pay-per-click (PPC), or paid search advertising, is an effective tool in your law firm's  digital marketing strategy. PPC ensures your website gets visibility across search engines and platforms, putting your law firm directly in front of people needing your legal services. 
Targeted Advertising

Increased Website Traffic

Improve Conversions from Qualified Visitors

Increased Recognition and Awareness

Campaigns Tailored to Any Budget
No Long Term Contracts For Law Firms and Attorneys
At TheeDigital, we don't believe in forcing you to sign a long term contract. Our main goal is to partner with your law firm to achieve excellence. Our long years of experience helping lawyers makes us pioneers in the digital marketing law industry. We constantly strive to provide the best outcome based on your primary target audience and the law practice you are focusing on. Currently, we are offering a FREE website audit for all attorneys and law firms owner. Contact us today, and one of our digital marketing strategists will be happy to serve you.
Peace of Mind with Bar-Compliant Digital Marketing for Law Firms
You know that the American Bar Association (ABA) as well as your state bar has strict guidelines and regulations related to marketing practices. Our experience with digital marketing for law firms ensures we are well-versed in these rules and regulations.
We know how to set you apart from the competition and connect with prospective clients while creating website content, advertising, and off-site and social media content that is ABA-compliant and ethical.
Why Choose TheeDigital for Online Marketing?
Since 2004, TheeDigital has worked with numerous law firms, increasing traffic and conversions through multiple streams, including web design, SEO, and PPC ad management. From building fast, responsive websites that provide an excellent user experience to creating high-quality content that builds trust in your experience and abilities.
We know how to increase your conversions and elevate your law firm to the next level. We specialize in all practice areas of digital marketing for law firms such as Divorce & Family Law, Personal Injury, Criminal Defense, Estate Planning, and Eminent Domain.
Why Our Law Firm Clients Love Working With Us
Our new website is much more interactive and completely mobile friendly. Immediately, we saw an increase in traffic to our website as well as an increase in people contacting us from the website. We're ranking on search engines for our main keywords – some on the top page! The TheeDigital team truly listens to our requests and offers impactful marketing advice.  We are very pleased with the traffic to our website and TheeDigital's marketing efforts!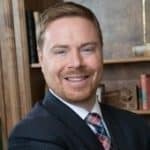 Gib Irons
Attorney
Irons & Irons Law Firm
TheeDigital got the details right. The color scheme on the homepage projects the accessibility and experienced messages, and the font is very easy to read. Plus, the site is mobile-friendly. So, it allows us to connect with more potential clients.
Andrew Sandman
Attorney
Capital Criminal Defense
This is very special work that you and your entire team do at a very sensitive time for grieving clients. Keep up the excellent work.
Gertie
Schweizer & Associates
Like most professionals and small business owners, I spend all my time taking care of my clients and attending to my professional and business responsibilities. I don't have time to learn web design and SEO strategies. I called TheeDigital. They designed and launched a professional looking website for my practice. Once the site was up, TheeDigital continued to help me with optimization and social media marketing to drive more potential clients to my site. All the staff at TheeDigital are excellent and have done a fantastic job. I would recommend them to everyone.
Hank Doyle
Attorney & Founder
The Doyle Law Offices
Could Your Law Firm Handle More Cases?
Please call us at 919-341-8901 or fill out our form below to schedule a consultation with one of our legal marketing experts.
Fields marked with an asterisk (*) are required.
Your information is collected for the sole purpose of providing services described on this website.
Your private information is held in strict confidence. We will never release, share or sell your information to any other entities. We hate spam too!